This is the BT Ireland story.
It's a story about Leadership, first and foremost. But it's also a story about Strategy, Execution and Culture – the key themes in a new book about how B2B leaders build customer-centric organisations.
Shay Walsh is the Managing Director of BT Ireland and was our guest speaker at a recent breakfast seminar at the Irish Management Institute. His topic was 'Customer at the Heart' and Shay told the story of how BT transformed itself into one of Ireland's leading customer-centric companies. It wasn't an overnight transformation but BT was lucky enough to have a series of MDs, all of whom shared the passion for putting the customer at the heart.
LEADERSHIP
BT's Irish operations are purely business-to-business (B2B) unlike its British Telecom parent which sells to both consumers and businesses.
Back in 2008, BT Ireland knew that it had poor or deteriorating relationships with some corporate and government customers but didn't have an accurate assessment of the quality of these relationships. Chris Clark is the first leader in Shay's story. He was the MD who first engaged Deep-Insight to find out.
The initial customer feedback was poor. Very poor. BT was in the 'Danger Zone' but Chris Clark now had a baseline from which to start rebuilding the business.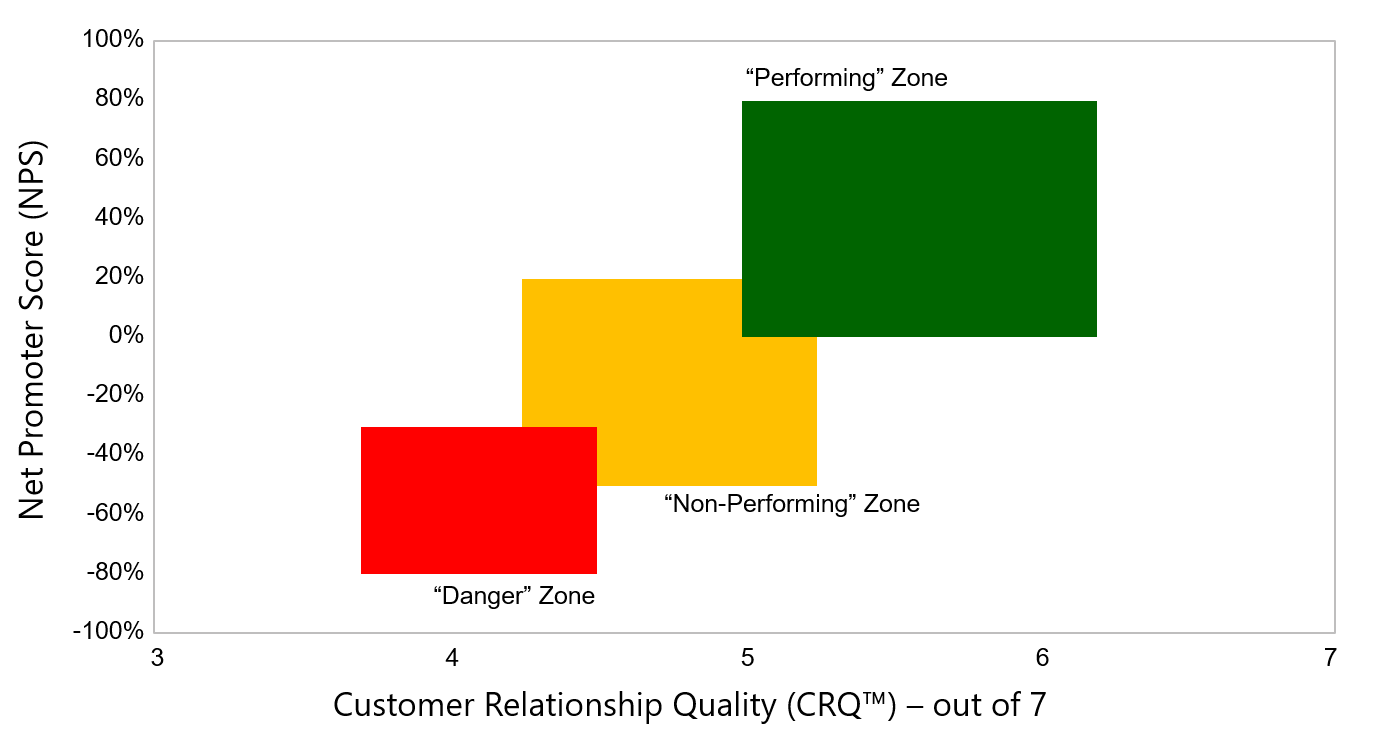 Shay Walsh was part of Chris' leadership team and ran the Irish wholesale business. Chris and Shay had no easy fixes – there was no silver bullet. Just a lot of poor processes, unhappy customers and a leadership team determined to get to the bottom of the issues and do the right thing for their customers.
FROM BAD TO GOOD
Chris, Shay and the rest of the BT leadership team all believed passionately that the journey to financial success had to be built around a clear focus on the customer. They set about fixing what was broken and repairing the damaged client relationships. When Chris got promoted within BT, Graham Sutherland took over as MD. Progress was slow at first but Shay and other members of Graham's leadership team finally got to grips with the underlying problems. One by one, they fixed them. They called the overall transformation programme 'Customer First'. By 2011, BT had not only exited the 'Danger Zone' but had managed to get into the 'Performing Zone'.
BUILDING AN EXECUTION CAPABILITY
Colm O'Neill accelerated BT's 'Customer First' programme when he became MD of BT Ireland in 2011. He appointed a Customer Experience director called Mairead McSweeney who drove the programme with ruthless precision. Mairead initially assessed how customers felt about BT every six months before moving to an annual cycle. She put governance rules in place to ensure that the right individuals in the right clients were contacted. She made sure that the 'Customer First' programme could not be 'gamed'.
Shay Walsh was now MD of Business Sales and he and the entire organisation (not just the sales team) were incentivised on the quality of the relationships they had with BT Ireland. Sales teams had targets set either at an individual level or at a team level. The senior leadership team had an overall BT Ireland target to hit for Customer Relationship Quality (CRQ) before incentives were paid out.
FROM GOOD TO GREAT
Shay, Colm and Mairead now embarked on the second half of the BT customer journey – going from Good to Great. A different set of skills and capabilities was required because you can't fix your way to greatness. Now it was down to the sales and service teams, working together, to identify where they could bring added value to clients. Then they made sure that the BT organisation could deliver on those promised value-adding improvements. In 2014, BT reached the 'Unique Zone" – essentially the top 10% of Deep-Insight's database.
THE ENEMY: COMPLACENCY
When you're on top, the only way is down. The enemy is complacency. What was refreshing about Shay's talk was his honesty about the fact that not everything is perfect in BT. They still get things wrong some of the time. The majority of customers may be extremely happy but Shay and his team are not resting on their laurels.
Shay Walsh became MD of BT Ireland in 2015. Since then, he has been pushing an agenda of continuous improvement in the company. There is no room for complacency in Shay's organisation as the pressure in the telecommunications industry for better, cheaper services is relentless.
WAS IT WORTH IT?
Absolutely, says Shay Walsh. BT Ireland is still in the 'Unique Zone' but more importantly, the company is in a profitable and extremely stable position. Shay's final slide sums up the BT Ireland story and the benefits of putting the customer at the heart:
Long-lasting relationships with clients
Increasing revenues from those relationships
80% of next year's target revenues already contracted
Extremely happy customers – 57% are Ambassador clients for Shay and his team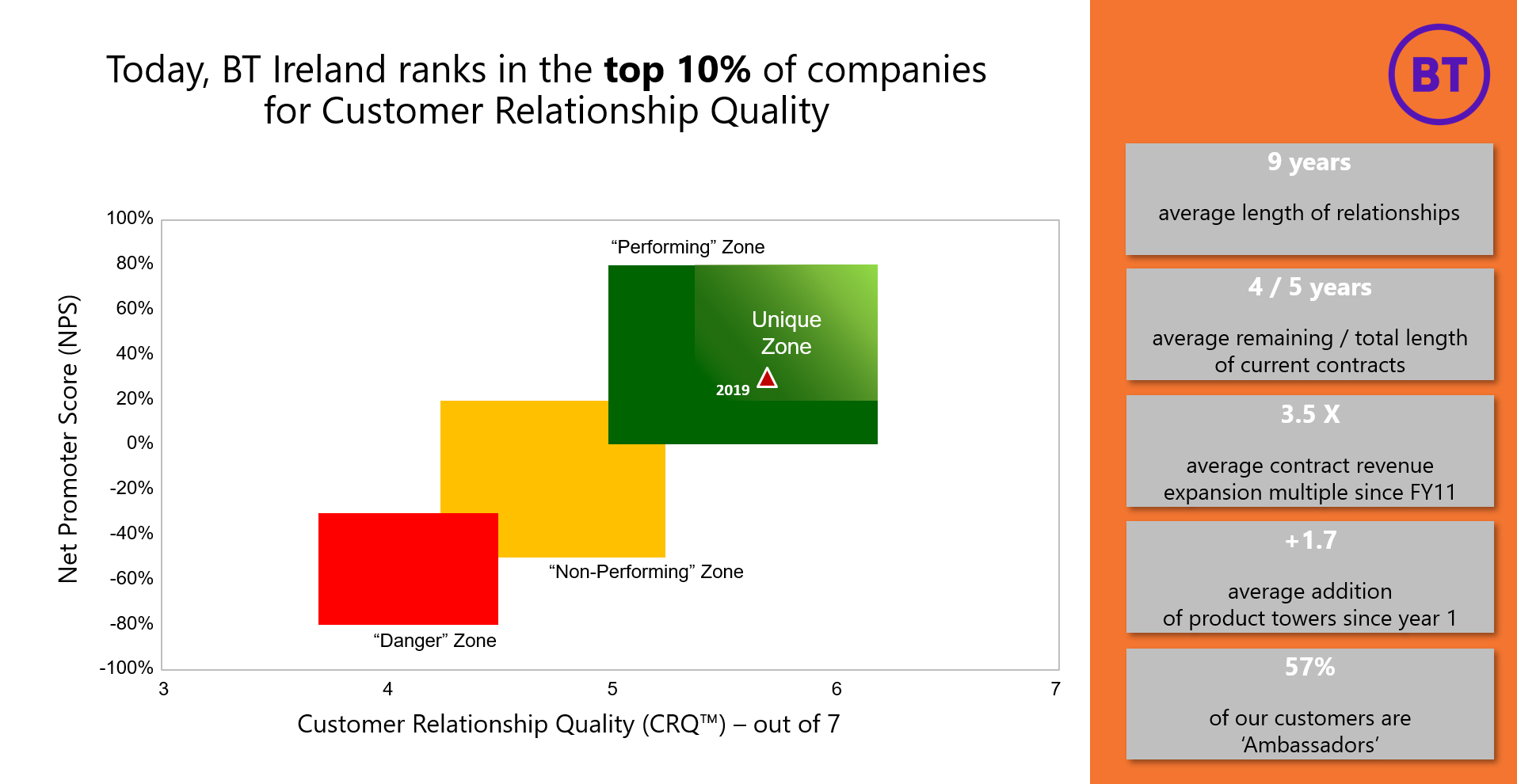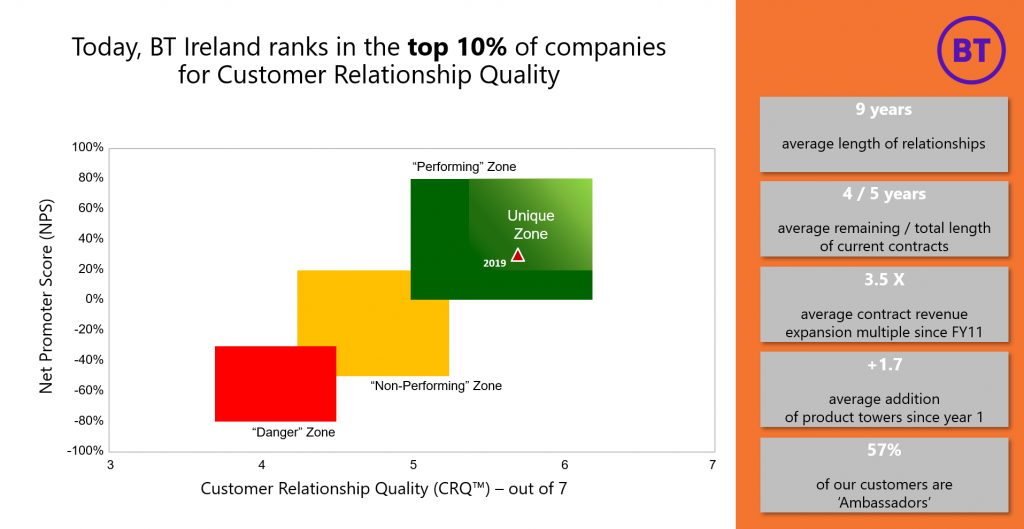 PODCAST
This is a summary of the BT Ireland story. To hear Shay Walsh tell the story in full, listen to the full podcast on the Irish Management Institute website.
If you want to find out more about the BT Ireland story or how to put the customer at the heart of your company, contact us today or click on the link below to read about how business leaders in BT and several other organisations have transformed their companies to become truly customer-centric: