Most people understand implicitly that good Business to Business (B2B) relationships are built on a strong foundation of trust. But if Trust is so important, why do so few companies measure it? It's a question that has always intrigued me. I must admit that I'm still struggling to find the answer.
The fact is that CEOs keep tabs on all sorts of KPIs. For operational performance, there are lots of service level agreements (SLAs) and other three letter acronyms (TLAs). Logistics companies even have five letter acronyms like DIFOT – Delivery In Full On Time. For financial performance, the CFO has an eye-watering array of metrics. For customer performance, there is customer satisfaction (CSat) and Net Promoter Score (NPS).
But rarely, if ever, is there a metric for Trust that is discussed by the leadership team or reported to shareholders.

How Important is Trust?
A couple of weeks ago, I ran a short poll on LinkedIn, asking people what they thought was the most important element of a strong B2B relationship. It wasn't a trick question as we believe at Deep-Insight (based on pretty good academic research) that the three key pillars of a great B2B relationship are Trust, Commitment and Satisfaction.
I wasn't surprised by the winner but I was intrigued by the margin. It appears that Trust really is seen as the cornerstone of a strong B2B relationship.


Trust, Commitment and Satisfaction
How are they all related? Here's how we explain it.
If you take a purely commercial view of any business relationship – and you shouldn't – it's all about the revenues you can generate from that relationship over the long term. I know that's a bit mercenary but that's how some people view things. The greatest predictor of a long-term relationship is Commitment and it's important that you measure your clients' commitment to you. We ask that question quite bluntly to our clients' customers: "Are you committed to a long-term relationship with [Name of Client]?"
It turns out that the answer to this question has the highest correlation with the likelihood of the company buying from our client again in the future. The opposite is also true. A poor score is the best predictor that the customer will defect to the competition.
But remember: commitment to a long-term relationship is only the outcome of other factors. Two of the most important factors are Trust and Satisfaction. Trust is all about fairness, honesty and acting with integrity. It's a reflection on what clients think of your brand but, more important, it's their perception of how trustworthy your people are as well.
Satisfaction, on the other hand, is a measure of how well you meet (or exceed) a client's expectations. It's more transactional than Trust, and also more volatile. For example, you can be satisfied with your IT service provider today, but deeply unhappy tomorrow when the network crashes and your factories or stores can't operate. When the IT service provider pulls out all the stops and fixes the problem in double-quick time, you're both relieved and satisfied again. Satisfaction scores can fluctuate wildly. Trust scores? Not so much.
Trust at Serco
One of our clients that takes Trust seriously is Serco. It's one of Serco's four stated values: Trust, Care, Innovation and Pride.


Serco is quite clear about both what Trust is, and what it is not. Here are the behaviours it expects from its people:
Do what they say they will, try their best and see things through
Consistently provide the highest standards of customer service
Have a can-do, will-do attitude
Are open and honest
Communicate truthfully, clearly and concisely
Aim to always do the right thing and never compromise our values
Think through the consequences of their decisions
Speak out when they see something wrong
Understand who our customers are, listen to them and act upon their feedback
Challenge assumptions in an appropriate way
Acknowledge when they make mistakes and take responsibility for correcting them
Similarly, Serco believes Trust is not demonstrated if employees or the leadership:
Make promises that we cannot keep
Rush to provide solutions before listening to others' needs and opinions
Fail to keep customers and colleagues informed
Are not straightforward and transparent
Allow disrespectful or discriminatory behaviour
Knowingly use Serco's resources for personal gain
Break our Code of Conduct or the law
Falsify or misrepresent information
Ignore and don't speak up when we see something wrong
Choose to ignore adverse criticism
Blame others for mistakes we have made or things we have missed
Shift our responsibilities to others
Why do so few companies measure Trust?
How many companies measure have identified Trust as a core company value and measure it in a systematic way? The short answer is that very few B2B companies measure Trust at all. Serco is one of the few that even identifies it publicly as a core value. Isn't that strange? Business magazines and articles are full of ideas and tips for becoming trusted advisors. A lot of CEOs and company boards talk about "trusted relationships" with clients in their annual reports to shareholders.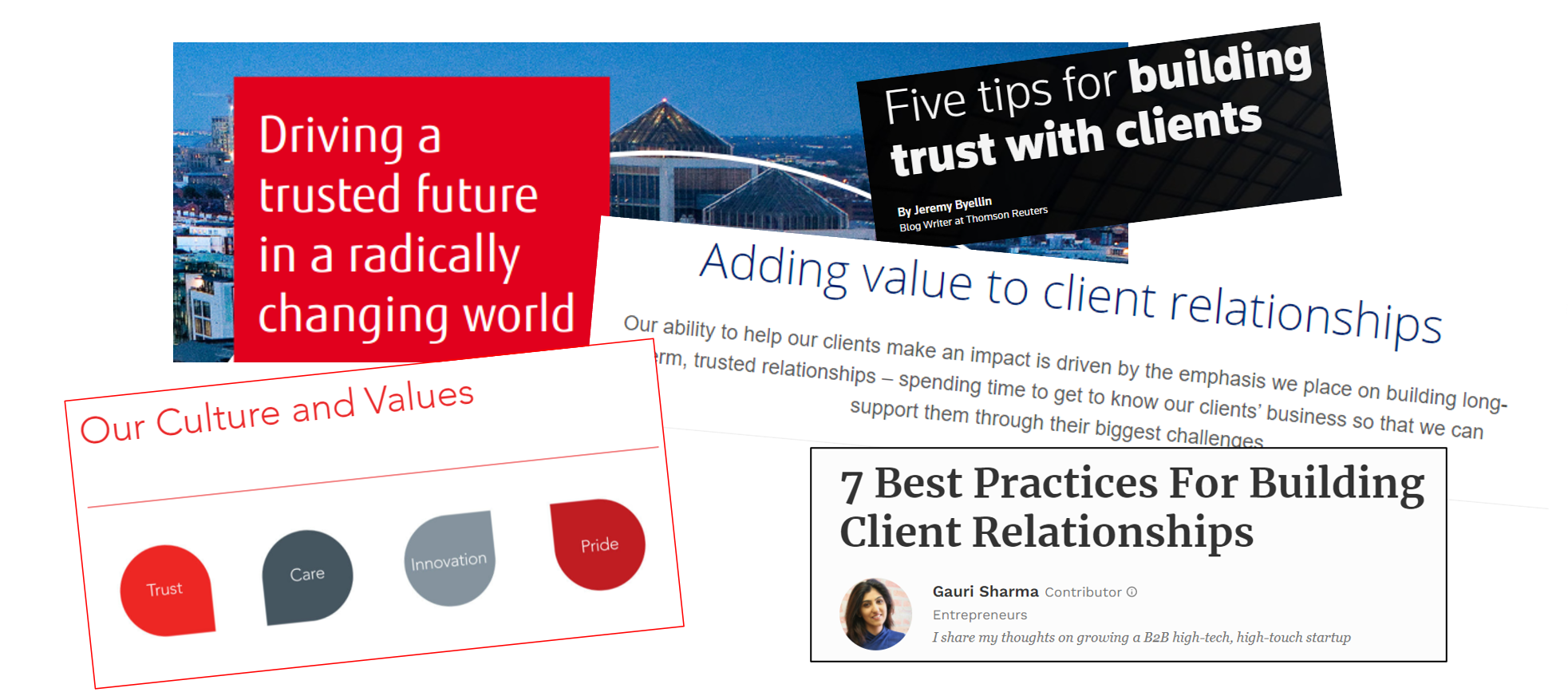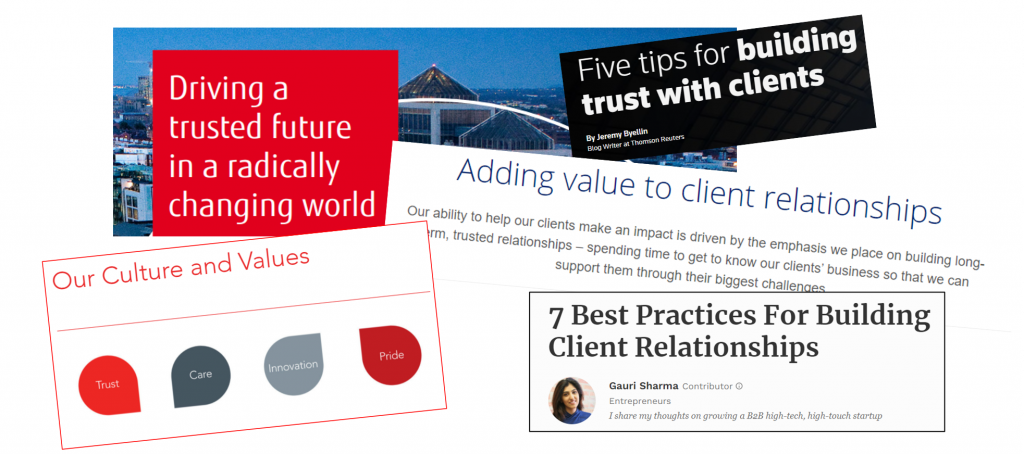 Interestingly, the same CEOs and boards talk about trusted relationships but then quote the company's Net Promoter Score (NPS). Now don't get me wrong. There's nothing wrong with NPS but it's not a measure of Trust. It's a measure of Advocacy. Yes, the two are related but it you're going to talk to shareholders and clients about "Trusted Relationships" or "Acting as Trusted Advisors" then you really should go and measure your performance directly.
Sometimes NPS isn't enough. It's a good metric – simple and easy to understand. But it's one-dimensional. If you really want to understand how trusted a relationship you have with your clients, you need to measure Trust as well as NPS of CSat (Customer Satisfaction). As a CEO or Sales Director, you need to understand if your key clients are Ambassadors who trust you implicitly, or Stalkers and Opponents who want to get out of the relationship because levels of Trust (and Commitment and Satisfaction) are so low.
If you want to know more about measuring Trust, have a read of this blog.
Alternatively, get in touch with us today.