I came across two posts on LinkedIn recently where two separate business-to-business (B2B) companies – one professional services company and one IT services provider – announced the exact same Net Promoter Score results from their clients: +91. The spokesman for the profession services company was particularly chuffed: "We were delighted with the results of the survey resulting in an NPS of 91." 
Now +91 is indeed an impressive result. If you understand the scoring mechanism behind NPS, you'll know that a score of +91 requires almost every one of your customers to score you either 9 or 10 to the question: "On a scale of 0 to 10, how likely are you to  recommend [Company] to a friend or colleague?"
"We were delighted with the results of the survey resulting in an NPS of 91"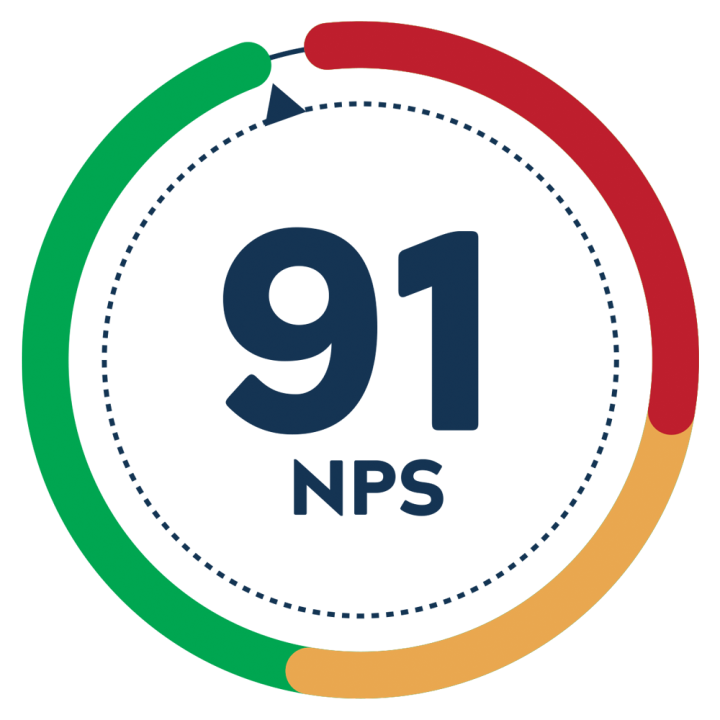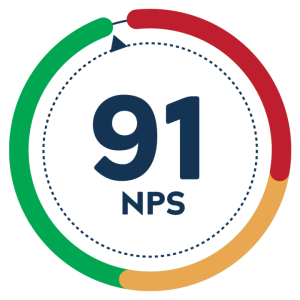 The calculation for Net Promoter Score is simple: just subtract the percentage of Detractors from the percentage of Promoters. The resulting score will be somewhere in the range from -100 to +100.
Promoters score you 9 or 10. Detractors score you 6 or less. What about the 7s and 8s, I hear you say? Well, they're called Passives and the sad thing is that they don't get counted at all.
A NPS result of +91 equates to a combination of Promoters, Passives and Detractors that might look something like:
91% Promoters, 9% Passives, and no Detractors (91 – 0 = 91)
93% Promoters, 5% Passives, 2% Detractors (93 – 2 = 91)
95% Promoters, 1% Passives, and 4% Detractors (95 – 4 = 91)
You get the picture. To achieve a Net Promoter Score of +91, almost everybody has to love you. Not just LIKE you, but LOVE you. And I mean REALLY, REALLY love you! 
+91 is an astonishingly good score in the B2B world.
A bit more context: In Northern Europe we generally think that a score of 8 out of 10 is pretty good. 9s and 10s are reserved for experiences that are truly special. I've written about this before. It's conditioned into us in school and at university not to give 9s and 10s when we rate somebody or some service that we have received. Think about it. If you have a college education and graduated with a First Class Honours degree, you scored 70% (or maybe a little higher) in your final year exams. That's 7 out of 10.
If you're a Premier League footballer and score a couple of goals in a Cup Final, you might be lucky enough to get a player score of 8 from the sports writers commenting on the game. When Liverpool won the Premiership for the first and only time in 2020, they did so with a Net Promoter Score of MINUS 45.
We're a difficult bunch in Europe. A dour lot. And the further north you go, the harsher we score. Other countries are different. In America (both north and south), you can get 10/10 if you do a good job or provide an excellent service. There are major attitudinal differences from country to country when if comes to scoring – you can read about it here.
An 'average' B2B Net Promoter Score is slightly above zero
So what happens in real life? How many B2B companies score +91 on the NPS metric?
At Deep-Insight, we have been running large NPS programmes for nearly two decades – mainly in Europe – and the reality is that there is a surprisingly wide spread of scores ranging from -50 to +50.
An 'average' Net Promoter Score is slightly above zero. Nobody scores worse than -75. And nobody scores better than +75.

CX Programmes: most responses are biased
So am I saying that the professional services and IT firms claiming Net Promoter Scores of +91 are lying?
Not necessarily. Theoretically, it is possible to get a NPS result of +100 from your customer experience (CX) programme but in nearly 20 years we have never seen this happen. In fact, we've never seen any B2B company get close to +75. 
In practical terms, the only way you can get a NPS result of +91 is as follows:
First, you really do have to be excellent at what you do – particularly when it comes to delivering excellent service every time
But that's not enough. You also need to 'frig the system' by selecting a small number of clients who are Ambassadors for you and your service
You also need to select only those individuals in those client organisations who you believe will score you 9/10 or 10/10
You need to carefully deselect any client that is likely to give you a poor score – you can use the excuse: "Now is not the right time to ask them their views" or "We'll only antagonise them if we approach them now"
Never send a survey to somebody who doesn't know you really well, even if it's a senior decision maker that you'd love to have a conversation with – as we've seen already, the chances of them giving you 9 or 10 are very slim indeed
Finally, don't outsource the survey process to a third party who will give the option of confidentiality to the survey participants – confidential surveys are likely to elicit lower scores even if they provide a more realistic and honest view of your product or service
You might think I'm being cynical. Surely B2B companies don't act in such a manner? Surely the leadership and CX teams will prevent this happening by putting an appropriate governance process in place?
Even if companies aren't that cynical – and in our experience most are not – subtle biases always creep in to soften any hard messages, inflate the true Net Promoter Scores, and water down the recommended actions. Sometimes these biases are blatant. But they always exist.
What's worse is that leadership teams often compound the problem by setting inappropriate targets ("We're expecting a completion rate of 75%") or by incentivising a completely biased result by paying bonuses if certain NPS targets are reached. We all know that if you give good sales managers a target and an incentive plan, they will do their best to achieve it.
Don't fall into that trap with your CX programme. Work hard at getting what we refer to as 'unvarnished truth' about what your customers really think. 

Things that never happened: a NPS of +91
Back to our professional services and IT companies and their +91 NPS results. 
I don't believe they deliberately set out to 'frig the system' in order to achieve a score of +91. I also suspect they genuinely do deliver a really good service. But even without knowing the full details behind the surveys, I know in my heart that they were administered to a small sample of hand-picked clients. The individuals administering the survey were probably not even aware that they were 'frigging the system'. After all, they had to ask to account managers to nominate the people to be contacted as they don't manage the client relationships themselves. They weren't to know that the leadership teams had (unwittingly) conveyed to the account teams that a high NPS result would be good to promote their company on LinkedIn and other social media. They didn't tell the CEO that she needed to put a robust governance process in place.
With a good governance process in place to elicit the 'unvarnished truth' from clients, European B2B companies will never achieve Net Promoter Scores of +91. That's simply a fact. It never happened.
B2B leadership teams shouldn't be targeting high NPS scores. Instead, they should be trying to identify key areas for improvement, and then implementing changes based on real unbiased feedback from clients. If they are successful, the NPS results will improve slowly and steadily over time.
So don't just chase a NPS number. Listen to your customers instead. Act on their suggestions. Resolve their issues. The NPS result will take care of itself.
If you would like more information on how to run an effective CX programme that delivers real and long-lasting change, do get in touch with us. We'd love to help!