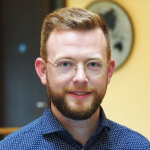 Hi, it's Shane again announcing our new client Servelec, a leading specialist in Digital Care.
It's been a weird month, hasn't it? The first quarter was incredibly busy, including a number of business trips trips to the UK. It may be a while before business travel becomes a thing again but the funny thing is that we're just as busy now. But in different ways. In January, I talked about our new Customer Relationship Quality (CRQ) programme with Invenio Business Solutions. We launched their CRQ survey to all of their global clients this morning.
My most recent client is Servelec. I was in Sheffield in March to kick off a new CRQ programme with Laura Thompson and Matt Newby. Although we are now operating remotely by telephone and video conference, I'm delighted to be working with Laura, Matt and the wider Servelec team. It is clear to me that they have an acute focus on tangibly improving lives with technology that matters, whether that be in health, social care, education or youth services.
Many of Servelec's clients are in the health and social care industries, working tirelessly to deliver care and support to communities and patients despite COVID-19. As a result, they've taken the decision to survey their customers later in the year than was originally planned to get the best possible response from the programme. Understanding and engaging with their customers is critically important to Servelec and we'll soon be helping them understand more about their relationships with their clients. Below is a little snapshot of Servelec and what they do for care providers across the UK.
Shane O'Regan
Project Coordinator, Deep-Insight
********************
Working Together, Working Smarter
Servelec is a UK software company and leading specialist in Digital Care. They believe in joining up health, social care, education and youth services and putting the person at the very centre of care. Servelec believes that, with the right tools and support, services can be delivered more efficiently and effectively to enable smarter ways of working.
Four Sectors
Servelec operates in four sectors:
Healthcare. Supporting the vision of every patient having one, fully integrated, electronic health record (EHR) to enable the very best and most efficient healthcare, operating across mental health, child health and community care settings
Social Care. Customer-led social care case management to manage adults', children's and finance cases on one platform, allowing professionals to work on the move and seamlessly integrating health and social care data
Education. Helping local authorities, schools and other providers to support families more effectively by spanning the full education and child services spectrum, giving one single view of each child or young person
Youth Services. Meeting the specific needs of Children's Services Departments and Organisations by creating purpose-built systems that provide the right information at the right time to deliver Integrated Youth Support
Find out more on Servelec's website about solutions designed to help healthcare and local government work more efficiently as they respond to COVID-19.
********************
If you're interested in understanding a little more about Servelec's Customer Relationship Quality (CRQ) programme, just contact us here.