Last month, we asked our clients what they thought of us. We do this every year and take our Customer Relationship Quality (CRQ) feedback seriously. We try to follow the advice we give to our own clients: give your customers the opportunity to tell you what they think. Listen to what they say. Then act on their feedback.
As we did last year, we cast the net for our 2022 CRQ assessment quite wide. We didn't just limit the survey to a handful of key decision makers in current clients. We included many operational and administrative contacts. Their views are equally important. We also asked dormant customers what they thought of us.
Last year, you said…
The main message that you gave us last year – actually for the last two years – was that you needed more than just a survey provider. In practice, that meant providing more assistance AFTER your customers gave their feedback. You needed a partner that could help you deliver meaningful change across your whole organisation. You also wanted us to be more flexible and supportive.
We listened, and here are three of the things we did in response to your feedback.
1. Deliver more than just a survey
We have always strived to be more than just a survey company. Our mission is to help companies become truly customer-centric. Getting customer and employee feedback is part of that process, but there's much more to it than launching a survey. That's why we completely redesigned the way we work with clients, based on what you said to us.
Today we spend a lot more time with leadership teams and sales or account teams both BEFORE we think about asking our customer's clients for their views as well as AFTER they give their feedback. The BEFORE piece is critical and must be done properly. If you don't invest the time up-front, your CX (or EX) programme will not deliver the results that Management and the Board expect from it. More than likely, it will end in failure. It's as simple as that.

2. Assist with Customer Relationship Quality 'Healthchecks'
Last year we conducted CRQ 'Healthchecks' for clients in the UK and Ireland. The objective of a 'Healthcheck' is to benchmark how good a company's Customer Experience or Customer Satisfaction programme is. That doesn't just mean assessing if the right questions are being asked of the right people. It's a more fundamental look at whether all the right components are in place to deliver genuine and meaningful benefits. We do this under four headings: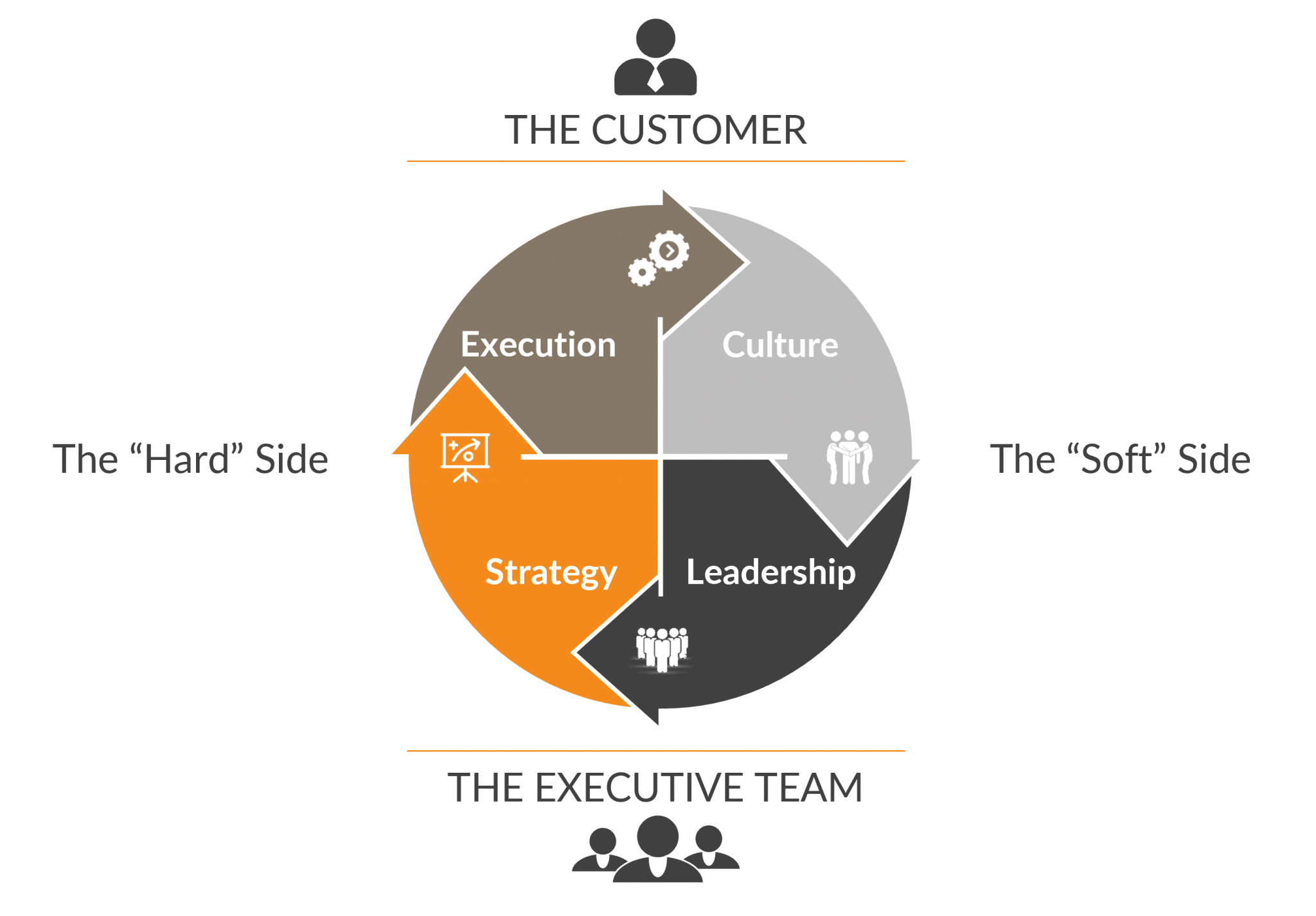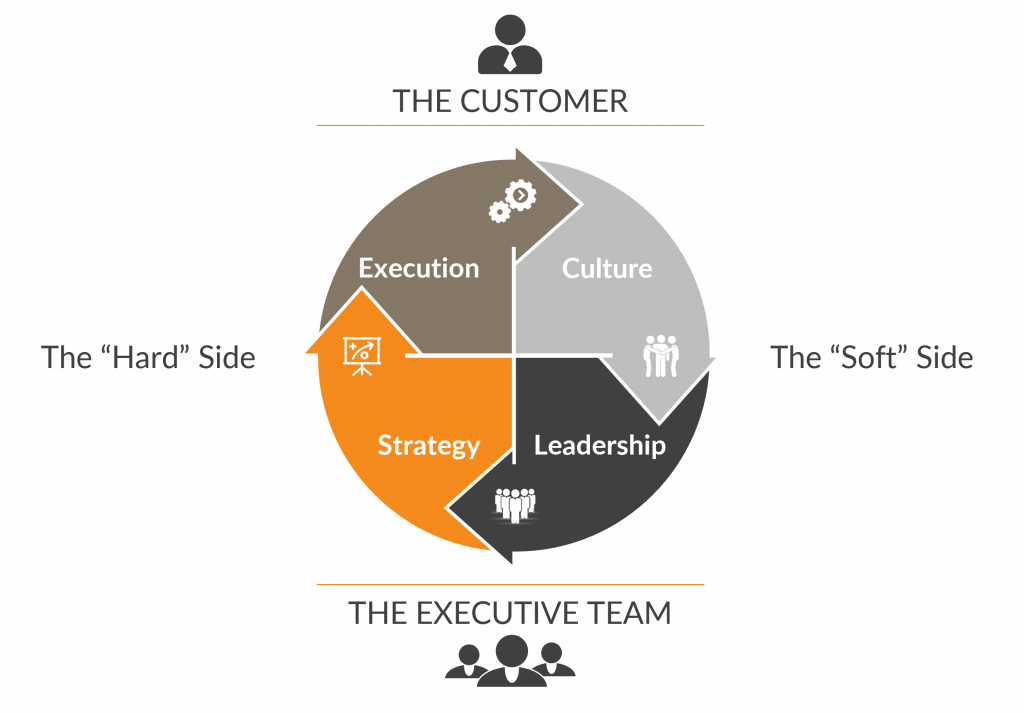 1. LEADERSHIP. The most important quadrant. Good Customer Excellence (CX) programmes are ALWAYS led from the top
2. STRATEGY. Good CX programmes link customer, product, operational and organisational strategy explicitly to customer needs
3. EXECUTION. Success requires properly resourced teams that are brilliant at executing the Strategy
4. CULTURE. Finally, Customer Excellence must become integral to the DNA of the organisation: "it's how we do things around here"
All four quadrants are necessary for a successful CX programme. The 'Hard Side' quadrants of Strategy and Execution are all about metrics and processes. 'Hard Side' activities lend themselves to key performance indicators (KPIs) and while the activities in these two quadrants are important and easily measurable, the quadrants of Leadership and Culture are actually more critical.
In our experience, Leadership is the most important quadrant while Culture is the most challenging. And yet, here's the strange thing: in most CX programmes the 'Soft Side' is often overlooked and almost always under-resourced.
3. Run Customer Centricity 'Masterclasses' for managers and leadership teams
One of the key 'Soft Side' challenges is making sure your entire organisation is on board with your CX (or CSat or NPS or Customer Relationship Quality) programme. Over the past 12 months, we have partnered with the world-leading HEC Business School in Paris.
That collaboration has helped us develop and deliver a 'Masterclass' to educate leadership teams, managers and partners about the importance and benefits of putting the customer at the heart of everything they do. The 'Masterclass' also helps employees understand the crucial role they play in making their companies customer-centric.
Already, these 'Masterclasses' have been delivered both virtually (for COVID reasons) and face-to-face to clients in Europe, Asia and the Americas.
How did we score this year?
Having made the investments over the past two years, we were very curious to get your reaction. In short, you were very generous in your responses this year.
This year we achieved a Net Promoter Score of +66 and a Customer Relationship Quality (CRQ) score of 6.1 out of 7.
This is the highest NPS result we have ever achieved to date and the third time we have scored over +50. Our CRQ score is also the highest we have ever achieved and we are honoured to be thought of so highly by you, our valued clients.


Result: new client wins
I honestly believe that it's because of the trust that our clients place in Deep-Insight that we have been able to announce some great new wins in recent months.
We have a 10+ year relationship with Atos but primarily in the UK & Ireland. Earlier this year, we extended that relationship to Germany and over the next three years we will be partnering with Atos on one of their most important and strategic global accounts.
One of our largest accounts in Australia was the logistics company Toll Group. Last year our key contact at Toll moved to Scotts Refrigerated Logistics and we recently signed a new 3-year contract to help ScottsRL become one of the most customer-centric companies in Australia.
Vreugdenhil Dairy Foods is a Dutch milk powder manufacturer that operates in Barneveld, Scharsterbrug, Gorinchem and Madrid. Its 500 staff process 1.4 billion kilograms of milk each year. Over the next three years, we will be working with the Vreugdenhil leadership team to turn a company that creates great food products into a truly customer-centric organisation.


Agenda for 2022
While we're really proud of these Customer Relationship Quality (CRQ) and NPS scores, there is more to do.
For starters, we got feedback from 48% of the people we asked to participate. While that's not bad, we do see some room for improvement. Last year our response rate was 55%. We know that some of our clients achieve rates of 70% or more. We will be working hard to improve on this figure next year.
Second, the main feedback we received this year is that our new consulting services are great BUT not enough. Our clients are looking for Deep-Insight to provide even more support. The two customer quotes below confirm to me that we need to support clients on a year-round basis.
"Would like to see greater insight on how we can really make a difference for our customers. How do we truly address those recurring themes that come up each year? It would be great to get insight on how we can do this better – beyond the data"

"I would question to what degree on a continual basis Deep-Insight provides interaction and insight as a partner to the business. Also, to what extent there are follow-up meetings post results as you as experts help inform our response and strategy."
Third, the feedback process is not finished yet. We need to 'close the loop' with all clients and discuss their specific feedback. We will be in touch shortly and will be looking specifically for more insights into any additional support needs they may have.
I need to finish off by thanking Fiona Lynch for planning, organising and running this year's client assessment. Fiona joined us earlier this year from Atos where she was part of a global service delivery team. It's great to have her on board.
So, well done Fiona, and thank you to all of our clients. We really do value your feedback.
John O'Connor
CEO, Deep-Insight