We are very proud of this picture. Most of our customers are promoters – they love our products and services and are willing to tell the world about it. Time to celebrate and shout this from the rafters – right?
Call it intuition or call it 20+ years' experience in understanding client feedback but far more digging into the feedback would be needed before we were ready to celebrate.
The result of this digging is the creation of a new role – Product Manager – and their first objective will be to validate if we have the correct product strategy. 
So, how is this logical given the amazing feedback that I have just shared, especially around product? The answer to that is a lesson on why you should never just rely on NPS to tell you how your customers are feeling or what their future intentions might be.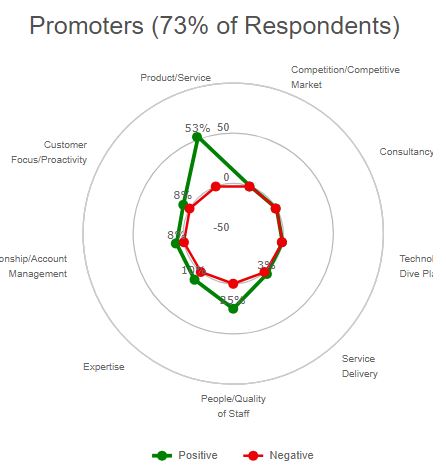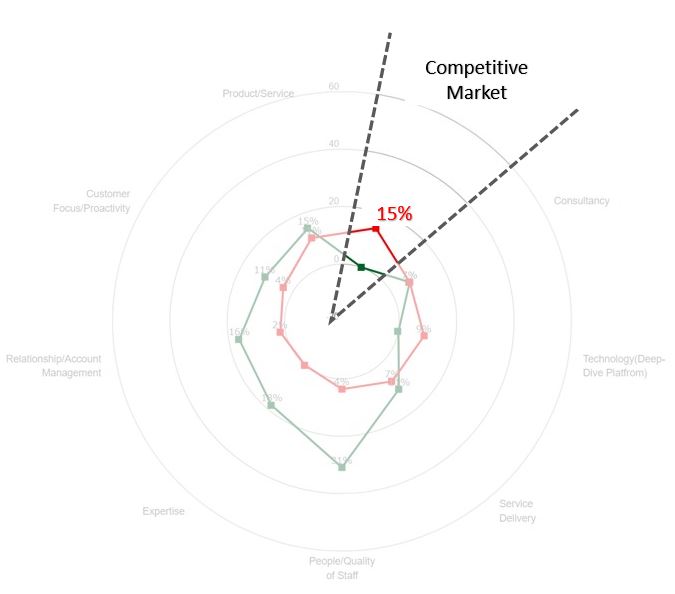 This is where CRQ™ really helps us to get under the bonnet of even the rosiest feedback, forcing us to listen to the murmurs of bubbling discontent.
The first red flag is when we asked all respondents what our greatest weakness is, not only did we have a new winner – we had a new topic entirely and it was mentioned by 15% of respondents.
Is this really a problem?
Immediately the internal arguments came that this was a blip and not that important. Arguments we used to try and convince ourselves were:
15% is still not that many!
Price (often a key indicator of competitiveness) is not raised by even one respondent.
We are in the CX business for over 20 years (long before CX was even a thing) – you will find it difficult to find a competitor in the B2B space with more global, cross industry, experience than us.
Just look at that promoter graph again, our customers love us!
The only way to answer these arguments is to establish if there are further data insights that support this feedback? (Keep Digging)
We started by segmenting the feedback into the respondents who know us best – the CX Teams we work with every day and Key Decision Makers who repeatedly choose us as their CX Partner.
Turns out that even a higher percentage of the individuals who know us best believe this to be a weakness for us.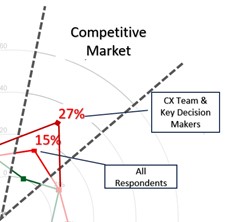 Further investigation of CRQ™ scores only compounded that we need to listen. Focusing again on those individuals who know us best, scores that link closely to this type verbatim have slipped from Top Decile Scores to Second Quartile Score .

The important Insight from all this data
🙂 Great overall scores are not wrong – Our customer love what we do and how we do it.
But here is what we cannot ignore
🙁 Our customers want more CX services than we currently offer, and they perceive that there are other suppliers in the CX space now who can give them what they want.
😐 Some of our customers also believe that other CX suppliers are better at promoting themselves in the market and raising brand awareness.
The exciting part of all of this
🙂 Our customers do not want to use those other suppliers; they trust us and believe in our integrity as their CX Partner. They want us to provide these additional services, and they want us to tell the world how great we are.
The Action - A new position in Deep-Insight: PRODUCT MANAGER
FIRST OBJECTIVE: Validate if our current product strategy is correct, needs to be tweaked or needs a massive overhaul. 
FIRST STEP: Ask many customers, previous customers, industry contacts and friends for your input and I will be extremely grateful to anyone who can give us the time to help
PURPOSE: Change, even if that is in a way that neither us nor our customers can predict just yet 
P.S. I am not ignoring the brand promotion and awareness feedback, our CEO John O'Connor is going to take personal ownership of addressing this. Watch this space, his thoughts will follow shortly.